Which are the best online learning platforms?
Along with other amenities, advancement of technology has also brought revolutionary changes in the modes of teaching or learning as well. One of these changes is that the mode of teaching in various fields has been shifted from traditional methods to online learning.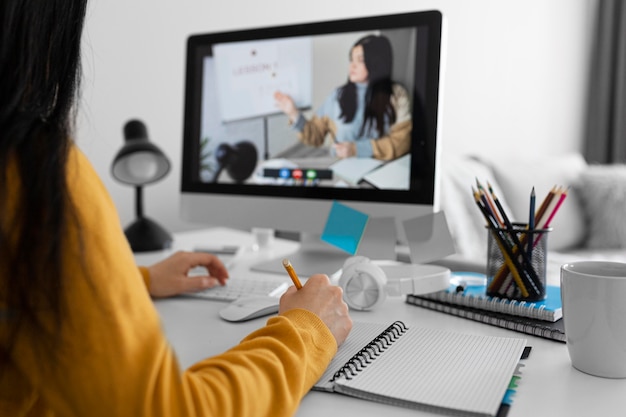 This shift to online modes of learning has solved many problems which would not be possible otherwise. For example, nowadays students can join online learning courses whenever they want in order to clear all the concepts regarding that subject.
Here is the list of online learning platforms that are top ranked and you can choose one of these platforms which seems best to you. And you can learn math, English and so much..
Coursera:
If you are looking for a trustworthy platform where you can continue your professional or academic courses without being enrolled in any college or university, you can go for this option. Upon the completion of degree or course you are enrolled in, you can get specific certifications and degrees.
Formal activities like quizzes and assignments make the courses offered through this platform look professional. Moreover, it is noteworthy that this platform is affiliated with more than a hundred universities and offers more than 3000 courses. So, it can be considered as a preferable option when you are looking for a dependable online learning platform.
Udemy:
Udemy also comes under the list of credible online learning platforms. The specialty of this platform is that it provides an unparalleled wide range of courses. It offers more than 100000 courses falling under different categories. You can choose the one you are interested in.
It is necessary to mention here that courses offered by this platform are available under different languages which make this platform a more comfortable and practical option.
Furthermore, this platform offers you certificates upon the completion of these courses. The courses are available in the form of video lectures and the length of videos may go from thirty minutes up to five hours. You can access these videos whenever you want until you get complete understanding of a certain subject.
MasterClass:
MasterClass is another online learning platform especially focused on personality development and grooming. The most special thing of this platform is that it provides you an opportunity to proper guidance and coaching from professional experts and celebrities. This feature may take your skills up to another level.
Another considerable thing is that the courses are available at very low prices. For example, you can get access to the video lectures at fifteen to twenty dollars per month. These videos are available under nine different categories.
Hence, MasterClass is a preferable option for those seeking personality development and similar other qualities.
It is also among the top notch platforms providing online learning. There are more than twenty thousand classes available that you can benefit from. These courses are basically focused towards development of skill set.
It must b kept in mind that the courses available under this platform does not provide you accreditation, certification or degrees when you complete them. The reason behind which is that the sole purpose of these courses is to develop skills in the individuals joining these courses.
Availability of the downloading option for the courses makes these courses more comfortable an effective at the same time. Before joining the courses, you can enjoy the free 2 months trial.
Conclusion:
If you are new to online learning and unaware of the online learning advantages and disadvantages, then this article will provide you complete guidance regarding the selection of online learning platforms.
The online learning platforms examples mentioned in this article are among trustworthy and famous ones. Joining the one you feel suitable for you will certainly help you in the development and upgradation of your skills.
Also Read: the best kissanime alternatives
How I Passed The SAP C_HYBIL_2017 Exam
This article is about my experience with a recent SAP exam I took, followed by an overview of the exam. Last week I passed the SAP C_HYBIL_2017 exam. With this exam, I earned SAP Certified Application Associate – SAP Hybris Billing – 2017 certification. Following is my experience and the overview of the exam and the certification.
Background
I am an IT professional working with the retail chain of an international brand. I work as an SAP Deployment Manager. I have done graduation with Information Technology as a major. I also have the CompTIA Network+ and SAP Certified Associate – SAP Activate Project Manager certification. Our organization uses the SAP ERP solution platform. I have almost 5 years experience of working with SAP solutions. This is my second job involving the SAP platform. Earlier I was working in a hypermart. I needed the SAP Certified Application Associate – SAP Hybris Billing – 2017 certification for my professional career requirement.
Preparation For The Exam
This was not the first certification exam of my life as I already have two certifications in my bag. Due to this, I was not under any kind of pressure. I always make a plan before going for an exam. This plan would be based on a definite timeframe with daily time allocation of theory and practice. It also included the daily, weekly, and monthly targets. Planning makes it very easy to prepare for the exam without getting overburdened at any point in time. With effective planning preparation for the exam become very convenient. To make an effective plan you need to get yourself updated by the latest exam objectives and course outline. As the exam contents keep on changing so you always need to get the updated contents and exam scope from the exam vendor. I got the updates from the SAP website. The next thing you need for an exam is the training material. So I opted for DumpsMate for the course material of the SAP C_HYBIL_2017 exam. I like DumpsMate for the updated and accurate training material. The study material for the SAP C_HYBIL_2017 exam included PDF and Testing Engine. After getting hold of the study material I started the preparation according to the timetable I already made. During the preparation, I found the braindumps by DumpsMate to be very useful. I regularly took the practice tests to evaluate my preparation in real-time. For this purpose, I used the practice questions and answers by DumpsMate that are based on the previous real exams. All the training material at DumpsMate is covered by a money-back guarantee for sure success in the exam on the first attempt.
The Exam
After completing the preparation in 4 weeks, I took the SAP C_HYBIL_2017 exam and passed it on the first attempt by securing 78% marks. With the success in the SAP C_HYBIL_2017 exam, I earned the SAP Certified Application Associate – SAP Hybris Billing – 2017 certification.
Value
The SAP Certified Application Associate – SAP Hybris Billing – 2017 is a valuable associate certification in the SAP certification portfolio with better job prospects.
SAP Certified Application Associate – SAP Hybris Billing – 2017
Level: Associate
Exam: 80 questions
Cut Score: 58%
Duration: 180 mins
Languages: English
Description
The "SAP Certified Application Associate – SAP Hybris Billing – 2017" certification exam validates that the candidate possesses the fundamental and core knowledge in business process and high-level configuration required of an SAP Hybris Billing associate consultant. This certification proves that the candidate has an overall foundational understanding to participate as a member of an SAP Hybris Billing project team in a mentored role. This certification exam is recommended as an entry-level qualification.
Notes
To ensure success, SAP recommends combining education courses and hands-on experience to prepare for your certification exam as questions will test your ability to apply the knowledge you have gained in training.
You are not allowed to use any reference materials during the certification test (no access to online documentation or to any SAP system).
Topic Areas
Please see below the list of topics that may be covered within this certification and the courses that cover them. Its accuracy does not constitute a legitimate claim; SAP reserves the right to update the exam content (topics, items, weighting) at any time.
Master Data – Products, Business Partners, Contracts > 12%
Explain the data objects Business Partner, Provider Order/Contract, Product, Master Agreement, Partner Agreement, and Sharing Contract and the need for the Hybris Billing Solution.
Order Management and Order Distribution> 12%
Describe the creation and change processes of Provider Contract, Partner Agreement, Sharing Contract, and Master Agreement and the replication of Provider Order and Contract replication.
Pricing > 12%
Explain Convergent Charging's foundational components, role in the product/service definition, and technical architecture components.
Billing and Invoicing > 12%
Describe the use of business partner and contract accounts in convergent invoicing, the use of the billable item monitor, billing process steps, the invoice process document flow, how to integrate open items into an invoice, how to reverse the billing process, how to add discounting to the invoicing process, customizing a billable item class, and explain data objects used in convergent invoicing triggered rating.
Integration of Sales and Order Management, Rating and Billing 8% – 12%
Explain integration aspects within the SAP Hybris Billing architecture (flow of data objects, mapping of data objects, integration technology).
Collections (Contract Accounting) 8% – 12%
Explain the use of Business Partner and Contract Accounts in Contract Accounting, the open item management, and clearing processes, payment processes (payment lot and payment run), the dunning process, and integration to General Ledger.
ConclusionWith the growth in the size of business and expansion of physical footprint, the need for effective management has also increased. To meet this requirement, Enterprise Resources Planning (ERP) is a critical component of ERP. ERP solution professionals have a very good employability potential in the job market. SAP is the world's number 1 company in ERP solutions. SAP Certified credentials are highly acknowledged skills in the ERP arena. The C_HYBIL_2017 Exam earns you the SAP Certified Application Associate – SAP Hybris Billing – 2017 credential which is an entry-level career-oriented certification in the SAP certification portfolio.