Which are the best online learning platforms?

Along with other amenities, advancement of technology has also brought revolutionary changes in the modes of teaching or learning as well. One of these changes is that the mode of teaching in various fields has been shifted from traditional methods to online learning.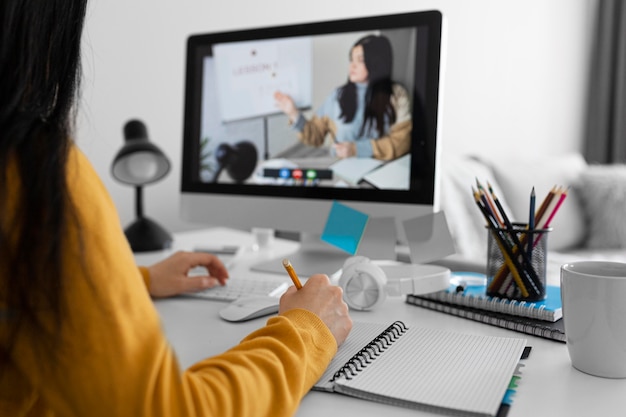 This shift to online modes of learning has solved many problems which would not be possible otherwise. For example, nowadays students can join online learning courses whenever they want in order to clear all the concepts regarding that subject.
Here is the list of online learning platforms that are top ranked and you can choose one of these platforms which seems best to you. And you can learn math, English and so much..
Coursera:
If you are looking for a trustworthy platform where you can continue your professional or academic courses without being enrolled in any college or university, you can go for this option. Upon the completion of degree or course you are enrolled in, you can get specific certifications and degrees.
Formal activities like quizzes and assignments make the courses offered through this platform look professional. Moreover, it is noteworthy that this platform is affiliated with more than a hundred universities and offers more than 3000 courses. So, it can be considered as a preferable option when you are looking for a dependable online learning platform.
Udemy:
Udemy also comes under the list of credible online learning platforms. The specialty of this platform is that it provides an unparalleled wide range of courses. It offers more than 100000 courses falling under different categories. You can choose the one you are interested in.
It is necessary to mention here that courses offered by this platform are available under different languages which make this platform a more comfortable and practical option.
Furthermore, this platform offers you certificates upon the completion of these courses. The courses are available in the form of video lectures and the length of videos may go from thirty minutes up to five hours. You can access these videos whenever you want until you get complete understanding of a certain subject.
MasterClass:
MasterClass is another online learning platform especially focused on personality development and grooming. The most special thing of this platform is that it provides you an opportunity to proper guidance and coaching from professional experts and celebrities. This feature may take your skills up to another level.
Another considerable thing is that the courses are available at very low prices. For example, you can get access to the video lectures at fifteen to twenty dollars per month. These videos are available under nine different categories.
Hence, MasterClass is a preferable option for those seeking personality development and similar other qualities.
It is also among the top notch platforms providing online learning. There are more than twenty thousand classes available that you can benefit from. These courses are basically focused towards development of skill set.
It must b kept in mind that the courses available under this platform does not provide you accreditation, certification or degrees when you complete them. The reason behind which is that the sole purpose of these courses is to develop skills in the individuals joining these courses.
Availability of the downloading option for the courses makes these courses more comfortable an effective at the same time. Before joining the courses, you can enjoy the free 2 months trial.
Conclusion:
If you are new to online learning and unaware of the online learning advantages and disadvantages, then this article will provide you complete guidance regarding the selection of online learning platforms.
The online learning platforms examples mentioned in this article are among trustworthy and famous ones. Joining the one you feel suitable for you will certainly help you in the development and upgradation of your skills.
Also Read: the best kissanime alternatives
How to Help Someone Going Through Emotional Abuse

Humans naturally tend to try extending a hand of help to anyone we see suffering, especially if it is someone we are well acquainted with. When you observe a close one going through a challenging phase of life wherein the cards they are dealt have left behind emotional scars, you know they need help. 
Though we can sense to this extent, knowing how to help them through it is not always easy. If you are finding yourself in such a situation, here are a few ways you could help your close one. It is equally good to suggest Oklahoma City individual counseling in case you want to provide them with much more practical support.
Being a sympathetic listening ear 
In situations such as these, all a person needs is someone reliable to listen to them. Initially, this might require you to create a comfortable space for them to do so. Remember that an emotionally abused person has an entire range of emotions within them, which asks for your gentleness and patience through the talk. Expect the victim to need you at even the most unexpected times during the day, and they will keep coming back. Attempt to help them overcome guilt and shame by making them understand it was not their fault. 
Remember not to let your thoughts be projected onto their experience

.
It is easier said than done to exercise control over yourself when someone shares an abusive experience. At times, you could be intruded with judgemental thoughts or thoughts of doubt if the abuser were even capable of doing such an act. Yet, do not forget that the victim is already going through a swirl of emotions. Try not to add to them by avoiding advising or criticizing their actions. 
Leave your closed space to make their own decisions. 
Sometimes, we force our decisions on our loved ones to get out of such situations. It could be about helping them overcome their guilt and shame, accepting the truth about the victim's behavior, or even leaving the abusive relationship. While this strong urge comes out of a place of deep care and concern, it is crucial to allow your close ones to think for themselves. Try to support them in their decisions, regardless of your opinions. 
Encourage them to seek professional help. 
Your close one, a victim of emotional abuse, might need more than your support in some situations. It takes a mental health professional to walk them through their emotions, experience, and the trauma it has left behind. This will also pave the path to their healing. One of the best ways to help someone in such a case will be by assisting them in finding the right resources and therapist for this purpose.