What's the Difference Between Divorce & Legal Separation in Idaho?
When it comes to a breakup, it is vital to understand the proceeding specifics and its types. In this article, we will consider legal separation and formal divorce. We will also look at Idaho's divorce requirements and filing process.
What is a Divorce?
Divorce is a juridical process between married people for the final termination of their marriage relationship. Getting a divorce, the spouses need to approve the division of property, child custody, alimony, and other controversial issues that may arise in the court.
What is a Legal Separation?
A legal separation is a court-approved decree that pauses a marriage. Usually, both spouses live separately and apart, moving to different houses. To get a split, the spouses need to go to the court to approve the decision and draw up a separation agreement. This document prescribes the property division, parenting time, and child support. Also, during the separation, the financial connection between spouses is severed.
Are There Differences Between Divorce and Legal Separation?
Divorce and legal separation are very similar and can cost about the same. Also, their registration takes about the same amount of time.
The main difference between the dissolution of marriage and separation is that divorced spouses can remarry. When separated, the couple officially lives apart, but they are still husband and wife.
Both mechanisms split the spouses' finances and provide legal oversight for custody, child and spousal support, and debt management. Court orders establish the rights and obligations of the couple, confirming their separation.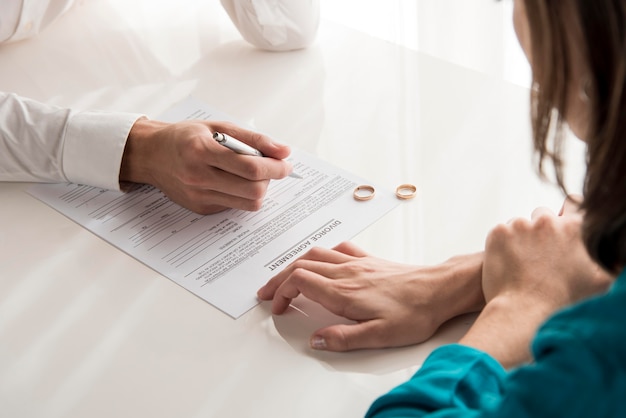 If the spouses have irreconcilable differences, divorce may seem like the only way to protect their finances. However, legal separation offers the same protection as divorce. Personal and financial benefits need to be considered when determining what is suitable for each party.
What are the Reasons to Consider a Legal Separation?
There are several reasons for separation – personal or financial:
the spouses are not ready to dissolve the marriage, but they want to live separately and apart and be financially protected;

the couple can not divorce for religious reasons;

the opportunity to receive health insurance from the work of the second spouse;

the ability to file taxes jointly and receive some tax benefits; and

if one of the spouses is in the military, and the other wants to receive Social Security and military benefits, but the spouses have been married for less than the required ten years.

What are the Reasons to Choose a Divorce?
Divorce is sometimes the preferred solution. Not all spouses want to deal with a mate, as it can be emotionally and mentally challenging.
The reasons for divorce include:
one of the spouses wants to remarry;

the spouses do not see financial benefits and want to end the relationship permanently;

the spouses do not wish to have connections or make medical or financial decisions together; and

state laws do not give the right to legal separation.

In Idaho, spouses can apply for divorce or separation, provided they are fully eligible.
What are the Idaho Residency Requirements?
Idaho has one of the shortest residency requirements. To file for divorce, one of the spouses must be a state resident for at least six weeks before filing.
What are the Grounds for Divorce?
In Idaho, there are grounds for fault and no-fault divorce. Reasons for a no-fault divorce are simply irreconcilable differences. It does not require proof in court. Reasons for a fault divorce should be more specific, such as adultery, abuse or inhuman treatment, abandonment, alcohol addiction, or permanent insanity.
When filing for divorce stating one of the spouses' fault, a petitioner should be prepared to provide strong evidence in the court. It is also worth noting that the court will take time to check all the proof against the respondent, which, in turn, increases the cost of a divorce and its term.
How to Apply for a Divorce or Separation?
The divorce process consists of several stages. The first is preparing the divorce papers. The spouse can get legal forms from the court clerk's office or download them from the Internet.
If a couple decides to do a DIY divorce without an attorney, then all the paperwork up to them. One of the fastest and most inexpensive ways to prepare documents is using an online divorce service. 
Internet divorce allows spouses to fill out the necessary forms without leaving home and wasting time and money meeting with a lawyer. All a petitioner needs to do is choose an online divorce company and sign up on their website. After a quick registration, the spouse preparing the application for divorce online goes through a marriage and breakup questionnaire. It isn't necessary to fill out the questionnaire all at once; a plaintiff can save the progress and return to it at any convenient time. The completed divorce documents can be downloaded online two business days after the system accepts the answers.
It's worth noting that web divorce is only suitable for couples seeking to get an uncontested divorce. To do this, they need to negotiate financial and custody issues in advance and be ready to sign a Settlement Agreement.
Once the required forms are prepared, they should be submitted to the local district clerk. The clerk takes the originals and collects the filing fees. If the plaintiff can not afford the payment, they can ask the clerk to waive the fee.
When the court accepts the documents, the divorce proceedings begin. The earliest spouses can get the divorce decree is 20 days after filing. If they have children, it may put the waiting period on hold for 90 days.
Final Words
Regardless of which type of breakup a couple chooses, divorce over the internet can help make the process of preparing forms more affordable and less stressful. It's worth mentioning that online divorce, like a do-it-yourself divorce, is not always suitable. If the spouses can not resolve their disputes without a judge, they should hire a professional lawyer for assistance.
Latest posts by jerry morgan
(see all)
5 Steps to Take After a Florida Accident
212,521 people were injured in an automobile accident in Florida in 2020.
Even if you drive safely, you can't always account for the mistakes of other drivers. If you're involved in a Florida accident, it's crucial that you take the right steps to protect yourself and your rights.
Keep reading for 5 steps that you should always take if an accident does occur while driving in Florida – or anywhere!
1. Call 911
If you are involved in an accident with injuries and/or property damage, you should call the police.
The police might not respond if the accident takes place on private property, but it's worth a try. A police report can help bolster your case for an insurance claim or lawsuit.
While waiting for the police to arrive, make sure that everyone is clear of the road for their own safety.
2. Collect Information
Once it is safe to do so, be sure to collect information from the other parties involved in the accident and any witnesses.
You should get the name, phone number, address, and insurance information from the other drivers. Take photos of your vehicle and any other vehicles involved, being sure to get their make, model, and license plate information. Take a photo of their insurance card, including their carrier and policy number.
Get the names and contact information from any passengers or other witnesses.
3. Get Checked Out
Anytime you are in an accident, you should seek medical attention as soon as possible. This is especially true for auto accidents. Some of the most common injuries that result from car accidents don't always show up right away.
You should get evaluated by a doctor who treats car accidents victims as soon as possible after being in a Florida accident.
4. Report the Accident
As soon as you are able, you should report the accident to your insurance company.
You should also use the contact information you collected to file an insurance claim with the insurance company of the at-fault driver. Your insurance company can help you get repairs done quickly if there is property damage to your vehicle.
5. Contact an Attorney
If you were injured in the accident, you should contact a personal injury attorney as soon as possible. They specialize in these types of cases and can help you get the right medical treatment.
One of the most important aspects of proving your case is having the right documentation, so working with an attorney from the get-go will ensure your rights are protected. If you were in an accident, you'll want more information about Florida accident attorneys.
Were You in a Florida Accident?
If you were involved in a Florida accident that wasn't your fault, you have rights and may be entitled to compensation.
If you haven't been to the doctor yet – you need to get yourself checked out. You should also contact an attorney to learn more about your rights.
If the other driver stayed put at the scene, exchange vehicle and insurance details with them. List down the make, model, year, vehicle identification number, and license plate number. Ask for the complete name, address, date of birth, contact info, and license number of the other driver.
For more articles about your health, check out the rest of our blog.
Latest posts by jerry morgan
(see all)