Reasons to Install Luxury Vinyl Flooring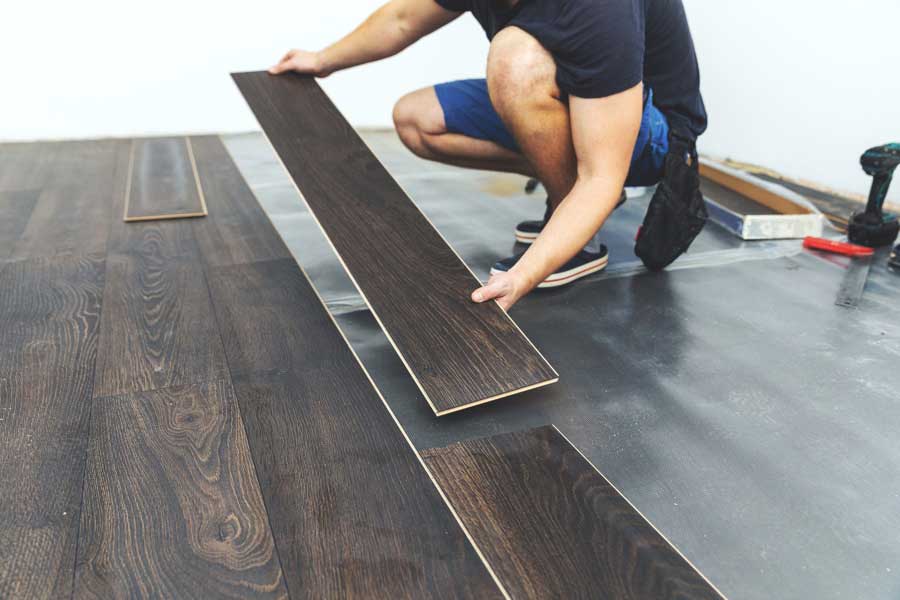 First impression is the last impression. This is an element that more and more home and business owners are becoming increasingly conscious to. A visually attractive environment is enough to draw customers in, relax a tiring household after a long day, or even provide a creative and calm atmosphere for budding artists. Remodelling a home or business is a challenging task, but getting advice on the correct type of flooring does not need to be.
The idea of redoing their floors can make the home and business owners hesitant to change the floors or try out new and improved ideas and materials. Many factors govern the decision-making aspects like the material and quality of the floors, the durability and also the affordability. Luxury Vinyl Tile flooring (LVT) is a type of rigid tile that constitutes several layers fused together under high heat and pressure. Unlike standard vinyl tiles, the "luxury" aspect denotes to the fact that these tiles simulate natural elements like wood and stone.
Some of the many reasons that make Luxury Vinyl Flooring a better choice than the rest of its competitors include:
Economical luxury:
Stone tiles and hardwood floors look stunning, but are normally expensive to purchase, install and maintain. LVT flooring is one way to embed the elements of nature into the home without the buyer's regret that can go along with paying so much. Even though the price of this type of flooring is reasonable, the modern technology in pattern design has ensured a final product with the same rich look and depth of real stone or wood.
Easy Installation, Repair and Maintenance:
For those who love to keep up with the latest trends, lifting LVT is much more time-efficient as compared to hardwood planks or stone tiles. The cost of substituting damaged tiles is also significantly less than that of stone and wood. It requires little to no maintenance and hence keeping your LVT floor clean and shining is just a breeze.
LVT is covered with a transparent, protective layer over its surface which averts fading of the tile's design under heavy foot traffic. LVT flooring is not only resilient to scratches and scuff marks, but also unaffected by exposure to moisture and other factors. Cleaning LVT floors is a breeze because since they involve no harsh chemicals or special treatment. This resilience also makes luxury vinyl products a decent choice for homes with pets and children.
Wide range of Colours and Designs:
A reputed flooring company will be able to offer a variety of colours and designs to match with your home's interior design. Vinyl flooring comes in an assortment of styles so you can find the desired look for your home. Vinyl floor tiles can replicate the look of natural stone and vinyl floor planks can aid you to duplicate the look of hardwood floors.
Installing Luxury Vinyl Tile and Luxury Vinyl Planks in your home signifies a cost-effective alternative to solid hardwood that doesn't compromise with quality. In addition, current technological advancements have made LVT almost indistinguishable from their natural complements. It will look and feel like you are walking on actual wood! Contact a trusting and professional LVT flooring experts and tile in your home in one of the finest and luxurious flooring.
MilesWeb Windows VPS Hosting: Managed or self-managed to choose?
Understanding the requirements of your website is very essential before selecting an appropriate web hosting type and plan.
There are numerous factors that one should consider before getting a web hosting plan.
You need to understand if you need Windows-based hosting, a Plesk account, WHM, or Linux-based hosting, and a cPanel account.
If you are going to manage your server resources you'll need the root access, if not will the root access be of any help to you, are a few things one needs to consider before getting a web hosting plan.
If your company has expanded to the point that shared hosting is no longer an option, you can feel frustrated by the numerous upgrade options available. If you're a typical small business owner or C-level executive, you probably don't know anything more than what your website needs to run.
To be in the safest zone while hosting your business website VPS is the apt option to choose.
What is Windows VPS Hosting?
The term "Windows VPS hosting" refers to hosting software that is based on Microsoft's Windows operating system on VPS servers. Windows VPS has many advantages for many users, especially businesses.
What is VPS Hosting?
Virtual Private Server is an abbreviation for VPS. VPS hosting is one of the most common hosting options available for your website. It makes use of virtualization technologies to offer you dedicated (private) resources on a physical shared server.
VPS servers work on virtualization that works on the hypervisor. The hypervisor divides the physical server into multiple virtual servers, eventually making you feel you owe the entire server.
The VPS server hosting provides each client with dedicated IP.
It's a more safe and reliable option than shared hosting, which doesn't give you your server. It is, however, more manageable and less expensive than renting an entire server.
Websites with medium-level traffic that exceeds the limits of shared hosting plans but do not require the resources of a dedicated server choose VPS hosting.
The following are the types of VPS hosting
Cloud VPS
Cloud Server
Managed VPS
Self-managed VPS/Unmanaged VPS
Linux-based hosting
Windows-based hosting
There are various benefits of VPS hosting listed below:
You don't have to share bandwidth or storage with other businesses because you have your own allocation.
VPS hosting is more costly than shared hosting, but it is less expensive than dedicated hosting because you only pay for what you use. VPS gives you a lot of resources for your buck.
Server backups are simple to perform with VPS hosting. For VPS environments, many hosting service providers offer regular backups.
VPS environments are more stable than shared hosting environments because they are separated from one another. The dedicated IP provides higher lever security for all the websites.
VPS hosting is highly customizable, it allows you to get exactly the features and functionality you want, including your preferred operating system (OS).
VPS servers allow resource scalability. It allows you to scale up or down the resources according to the website's needs.
Managed VPS Hosting
A managed VPS or fully managed VPS provides you management of the following:
Technical support
Server monitoring
Malware protection
DoS protection
OS and software upgrades
Daily back-ups
Complete VPS management
Unmanaged VPS Hosting
In unmanaged VPS hosting, all the server resources and website management is done by the client himself. Server monitoring, security, protection, software updates, back-ups, etc are all managed and handled by the client.
If you belong to technical background it is good to opt for unmanaged VPS hosting but that is again going to increase the management overheads. Hiring a technical team to manage the server resources will ultimately may you pay more than required.
Generally, it is recommended to go for managed VPS hosting as you can focus on your business more than the technical details of the server and website.
A few companies are providing Linux and Windows VPS hosting, amongst all MilesWeb is the best one offering the best services and features on all the VPS plans and. Milesweb offers all typs of hosting services like VPS, Windows, Managed, Unmanaged, Cloud and WordPress hosting.
About MilesWeb:
MilesWeb is a web hosting company based in India that was established in 2012. The business grew rapidly, offering the best hosting services at the most affordable prices in the industry. They agree that delighting customers and customer loyalty is the key to their success. The business has the highest website uptime and full-service customer support 24 hours a day, seven days a week. To date, the company has 28,000 happy customers. Also, MilesWeb has data centers across the globe, you have the choice to select a customer base.
Managed Windows VPS Plans Provided by MilesWeb:
There are six plans provided by MilesWeb for managed Windows OS namely W1, W2, W3, W4, W5 and W6
The base plan W1 has the following resources:
2vCPU
2GB RAM
50GB SSD Disk
500GB Bandwidth
Free SSL Certificate
Dedicated IP
Unmanaged Windows VPS Plans Provided by MilesWeb:
There are six plans provided by MilesWeb for unmanaged Windows OS namely SMW1, SMW2, SMW3, SMW4, SMW5 and SMW6.
The base plan SMW1 has the following resources:
2 vCPU
2GB RAM
50GB SSD Disk
500GB Bandwidth
Dedicated IP
Reasons to choose MilesWeb's fully managed Windows VPS
The company provides the following on all the VPS plans
Solid-State Drives
100% Dedicated Resources
Full Administrator Access
Plesk Control Panel
Latest Technologies
Easy VPS Upgrades
Affordable Price
Powerful Hardware
MilesWeb incurs no management charges you only pay the amount you see on the website. The company suggests VPS plans better for your business website. The company actively manages your account for security, uptime and network. The OS and server management is done by the company. Apart from all the benefits, you get 24*7 customer support related to any web hosting query.
To conclude:
MilesWeb offers the most advanced cloud-based VPS hosting with the most advanced hosting features. They allow you to choose your preferred operating system and control panel. MilesWeb offers the best uptime guarantee and 24*7 customer service. Log in and get your company online with MilesWeb, the best hosting service provider.