Reasons to Install Luxury Vinyl Flooring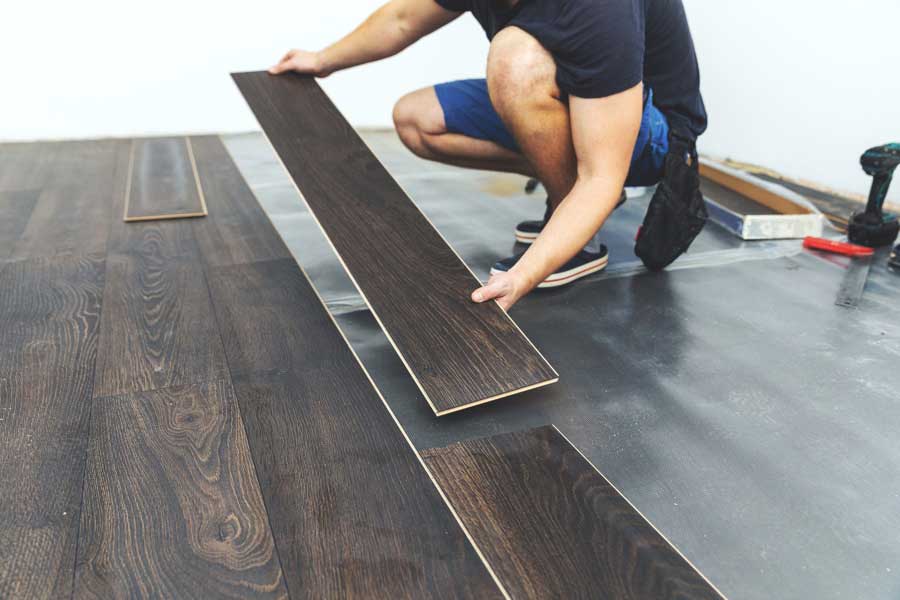 First impression is the last impression. This is an element that more and more home and business owners are becoming increasingly conscious to. A visually attractive environment is enough to draw customers in, relax a tiring household after a long day, or even provide a creative and calm atmosphere for budding artists. Remodelling a home or business is a challenging task, but getting advice on the correct type of flooring does not need to be.
The idea of redoing their floors can make the home and business owners hesitant to change the floors or try out new and improved ideas and materials. Many factors govern the decision-making aspects like the material and quality of the floors, the durability and also the affordability. Luxury Vinyl Tile flooring (LVT) is a type of rigid tile that constitutes several layers fused together under high heat and pressure. Unlike standard vinyl tiles, the "luxury" aspect denotes to the fact that these tiles simulate natural elements like wood and stone.
Some of the many reasons that make Luxury Vinyl Flooring a better choice than the rest of its competitors include:
Economical luxury:
Stone tiles and hardwood floors look stunning, but are normally expensive to purchase, install and maintain. LVT flooring is one way to embed the elements of nature into the home without the buyer's regret that can go along with paying so much. Even though the price of this type of flooring is reasonable, the modern technology in pattern design has ensured a final product with the same rich look and depth of real stone or wood.
Easy Installation, Repair and Maintenance:
For those who love to keep up with the latest trends, lifting LVT is much more time-efficient as compared to hardwood planks or stone tiles. The cost of substituting damaged tiles is also significantly less than that of stone and wood. It requires little to no maintenance and hence keeping your LVT floor clean and shining is just a breeze.
LVT is covered with a transparent, protective layer over its surface which averts fading of the tile's design under heavy foot traffic. LVT flooring is not only resilient to scratches and scuff marks, but also unaffected by exposure to moisture and other factors. Cleaning LVT floors is a breeze because since they involve no harsh chemicals or special treatment. This resilience also makes luxury vinyl products a decent choice for homes with pets and children.
Wide range of Colours and Designs:
A reputed flooring company will be able to offer a variety of colours and designs to match with your home's interior design. Vinyl flooring comes in an assortment of styles so you can find the desired look for your home. Vinyl floor tiles can replicate the look of natural stone and vinyl floor planks can aid you to duplicate the look of hardwood floors.
Installing Luxury Vinyl Tile and Luxury Vinyl Planks in your home signifies a cost-effective alternative to solid hardwood that doesn't compromise with quality. In addition, current technological advancements have made LVT almost indistinguishable from their natural complements. It will look and feel like you are walking on actual wood! Contact a trusting and professional LVT flooring experts and tile in your home in one of the finest and luxurious flooring.
Coil Coatings Market Is Expected to Flourish At a Significant CAGR of 5.5%
Global coil coatings market is expected to flourish at a significant CAGR of 5.5% over the forecast period. Moreover, the global coil coatings market is expected to garner USD 7.2 Billion by the end of 2024. Positive outlook of real estate is one of the major growth drivers of the global coil coatings market. Additionally, increasing automotive production is anticipated to fuel the demand for coil coatings during the forecast period.
Asia Pacific grabbed the highest percentage share in overall coil coatings market in 2016. Further, Asia Pacific is expected to continue its dominance over the forecast period. Rise in the infrastructure development activities is expected to intensify the growth of the Asia Pacific coil coatings market.
Recent report published by research nester titled "Coil Coatings Market: Global Demand Analysis & Opportunity Outlook 2024" delivers detailed overview of the global coil coatings market in terms of market segmentation by product type, by application, by end user and by region.
Further, for the in-depth analysis, the report encompasses the industry growth drivers, restraints, supply and demand risk, market attractiveness, BPS analysis and Porter's five force model.
The global coil coatings market is segmented into end user such as building & construction, appliances, automotive and others. Among these segments, construction segment is expected to occupy the top position in global coil coatings market. Further, increasing utilization of coil coatings in construction industry is anticipated to drive the growth of the construction coil coatings market. Moreover, growth of construction industry in developing nations is likely to fuel the growth of the coil coatings market during the forecast period.
Request Sample To Learn More About This Report @ https://www.researchnester.com/sample-request-389
Additionally, presence of major automotive manufacturers in the region is anticipated to positively impact the growth of the coil coatings market in Asia Pacific. China is the major contributor to the growth of global coil coatings market. Europe is also expected to showcase significant growth in the coil coatings market over the forecast period.
Increasing Infrastructure Investment in Developing Nations
Rising number of residential & commercial spaces across the globe is anticipated to trigger the demand for coil coatings during the forecast period. Moreover, high utilization of coil coatings in automotive industry is anticipated to supplement the growth of the coil coating market.
Innovation and Technological Developments
Advances in coil coatings and development of enhanced coil coatings by major manufacturers with high durability and green benefits are expected to foster the growth of the global coil coatings market. Moreover, recent innovations have reduced the cost of coil coatings which further is anticipated to increase the adoption of the coil coating in the years ahead.
However, fluctuations in the price of the raw material are expected to hamper the growth of the global coil coatings market.
This report also provides the existing competitive scenario of some of the key players of the global coil coatings market which includes company profiling of Akzonobel N.V., PPG Industries Inc., The Valspar Corporation, BASF SE, DuPont, Henkel AG & Company, Kansai Paint Chemical Limited, The Beckers Group, The Sherwin-Williams Company and Wacker Chemie AG. The profiling enfolds key information of the companies which encompasses business overview, products and services, key financials and recent news and developments.
Enquire before purchasing this report at https://www.researchnester.com/sample-request-389
On the whole, the report depicts detailed overview of the global Coil coatings market that will help industry consultants, equipment manufacturers, existing players searching for expansion opportunities, new players searching possibilities and other stakeholders to align their market centric strategies according to the ongoing and expected trends in the future.
About Research Nester:
Research Nester is a one-stop service provider with a client base in more than 50 countries, leading in strategic market research and consulting with an unbiased and unparalleled approach towards helping global industrial players, conglomerates and executives for their future investment while avoiding forthcoming uncertainties. With an out-of-the-box mindset to produce statistical and analytical market research reports, we provide strategic consulting so that our clients can make wise business decisions with clarity while strategizing and planning for their forthcoming needs and succeed in achieving their future endeavors. We believe every business can expand to its new horizon, provided a right guidance at a right time is available through strategic minds.
Contact for more Info:
AJ Daniel
Email: info@researchnester.com
U.S. Phone: +1 646 586 9123
Read More
Aviation Analytics Market
Surface Mining Market
Portable Cardiology Ultrasound Systems Market
Barium Fluoride Market
SaaS Enterprise Applications Market
Micro-Miniature Co-axial Adapter Market
Tamper Evident Packaging Market
Pack Conveyors Market
Agricultural Packaging Market
Enterprise Intellectual Property (IP) Management Software Market
High Pressure Oil and Gas Separator Market
Surface Drilling Rigs Market
Power Plant Boiler Market
Natural Polymer Market
Biopharmaceutical Oral Drug Delivery Market
Connected Aircraft Market
Solar Panel Market