Hiring Lawyers vs Getting a Divorce Online | Colorado

Each person's personal life is defined by the choices we make. It is no wonder they say that we are the creators of our own happiness. Every day, we independently make choices, from insignificant trifles to life-altering ones. Drink tea or coffee for breakfast. Try to cheat fate with a trip through the center at rush hour or go around traffic jams. Go to a noisy party and make a fateful acquaintance or stay at home and wait for a lucky chance.
In the end, being happy or suffering is also a choice. This publication will focus on the legal decisions associated with the divorce process from a practical perspective. As the petitioner or initiator of the divorce process, you constantly need to make quick and accurate decisions. And one of them needs to be done at the initial stage of preparation. You must choose between hiring a lawyer and online divorce. What criteria in your case will be most important for this choice?
A Little About the Level of Privacy and Trust in the Legal System
Often, legal problems and challenges that arise within the family and between spouses are too intimate to be discussed with third parties or outsiders, even if they are professional lawyers. Petitioners, and even more so the respondents in such family-related cases, are not particularly delighted about extra contact with judicial institutions and do not seek to make additional undesirable visits to the court.
Of course, this does not mean that divorce lawyers should not be privy to the details of the relationship between spouses who seek to dissolve the marriage. On the contrary, it is necessary in cases where it is impossible to resolve disputes between spouses without the help of third parties. This may concern the division and distribution of joint property, some aspects of parental rights, the appointment and payment of alimony, and other financial points of the divorce process.
Therefore, when choosing the format of the divorce proceedings at the initial stage, you should take into account the individual characteristics of the case. An uncontested divorce is available in Colorado and is much more convenient, quick, and financially affordable. However, there are certain requirements for its initiation, starting with a mutual agreement between the divorcing spouses. At the same time, it is important to understand that not every case can be managed without an attorney.
The Total Budget of the Process as a Weighty Criterion for the Popularity of Online Divorce
The ability to save money by planning the budget for the divorce process is the main reason you should think about the DIY format for your divorce. A traditional divorce process can amount to several thousand dollars. Even though most legal costs are fixed, it is often impossible to calculate the costs of lawyers' hourly fees, consulting, and organizational support in advance.
Colorado divorce lawyers charge between $230 and $280 per hour, bringing the average cost to $11,000 to $11,700. But uncontested cases are typically significantly lower. Meanwhile, in order to get a divorce in Colorado, one of the spouses files a petition for the dissolution of marriage. Courts charge fees for filing legal paperwork. The current filing fee for a divorce petition is $195.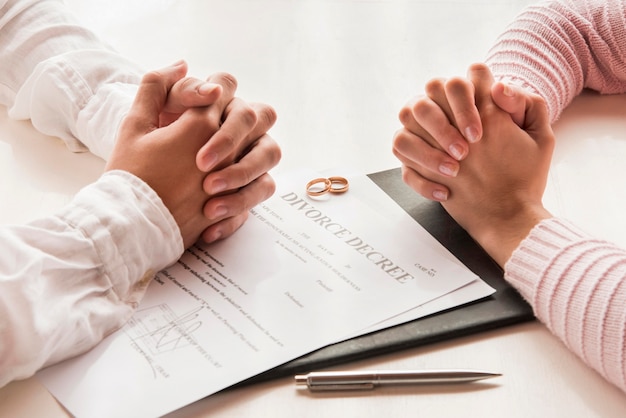 Having made a choice in favor of abandoning a lawyer's services, you next have to choose how to prepare the documents and file for divorce. You can independently collect the documents by downloading them from your local court's official website and filling out the necessary forms yourself. Or you can use an online divorce document preparation service.
Most online divorce companies provide clients with bundled offers for preparing divorce papers and guarantee acceptance of the forms by the court. It is often a fixed, affordable price, which includes fast and high-quality processing of your data and completion of the forms necessary for your case.
Some More Pros and Cons of Online Divorce
Among the key reasons spouses use the uncontested format are convenience, the reasonable price, and the absence of the need for additional personal contacts. The main positive feature of cooperation with online divorce companies is the ability to plan the budget for the process in advance, taking into account a fixed fee for each service.
One of the obvious advantages of online divorce documents preparation services is that they can help clients avoid communication with lawyers and skip most of the bureaucracy while taking on all of the paperwork issues. By choosing an online divorce service, there will be no need to drive to the court to pick up forms and no need to study divorce law or overpay an attorney to fill out the paperwork for you.
In general terms, the online service generates ready-made papers based on the users' survey results. The application user answers a questionnaire and provides contact details and other personal data regarding their specific divorce case. The online service then uses the information provided to select and complete the divorce papers for the client. Since the online service only uses up-to-date court-approved forms based on the user's state and county, they guarantee court acceptance of the ready-made documents provided.
However, despite the many obvious benefits of getting a divorce online, the "do it yourself" divorce format is not suitable for every case. The online divorce format is only suitable if your case can be qualified as an uncontested divorce. It implies that the spouses have come to a mutual agreement on all of the terms of their separation. Since uncontested cases are classified as a no-fault divorce in Colorado, applicants do not need to prove the cause of the marriage's dissolution in court.
Why You Should Call a Lawyer After An Accident Involving a Distracted Driver

Distracted driving is prevalent throughout the United States, leading to thousands of accidents and injuries annually. Have you or a loved one recently been involved in an accident with a distracted driver?
If so, consider calling a lawyer. However, you may need clarification on whether a distracted driving accident lawyer is necessary or how they can help you. To clear up any confusion, we will explore why you should call a lawyer if you've been in an accident involving a distracted driver.
Proving Distracted Driving
Proving that the other driver was distracted during the accident can be challenging. Distracted driving accident lawyers will know how to navigate these challenges and present the evidence in the most compelling way possible.
A lawyer experienced in distracted driving cases will be familiar with the various forms of evidence necessary to build a strong case. This may include obtaining cell phone records, reviewing surveillance footage, or even finding witnesses who can testify to the driver's behavior before or during the accident.
Negotiating With Insurance Companies
Insurance companies are notorious for attempting to minimize payouts or deny claims altogether. Skilled distracted driving accident lawyers can help you negotiate with the insurance company to ensure you receive a fair settlement.
They will also be able to identify any tactics the insurance company may use to try to devalue your claim or shift blame onto you and effectively counter those tactics.
Determining Liability
In some cases, it may be challenging to determine who is at fault for a car accident, especially if multiple parties are involved. Distracted driving accident lawyers can investigate the accident and analyze the facts to decide who should be liable.
Additionally, if the other party attempts to place partial or total blame on you, a lawyer will be prepared to protect your rights and work towards proving that the distracted driver was the primary cause of the accident.
Ensuring You Receive Proper Compensation
An experienced lawyer will be able to assess the damages in your case and help you understand the actual value of your claim. This includes medical expenses, lost wages, vehicle repair costs, and any pain and suffering you may have experienced due to the accident.
With the assistance of a lawyer, you may fully understand the extent of your damages and could be under-compensated.
Handling Any Legal Deadlines
Often, strict deadlines must be met when filing a personal injury claim. Distracted driving accident lawyers will ensure you meet these deadlines and avoid potential pitfalls that could weaken your case or even cause it to be thrown out.
Additionally, a lawyer can keep track of any necessary paperwork and guide you through the legal process, giving you peace of mind and allowing you to focus on your recovery.
Why You Should Call Distracted Driving Accident Lawyers – In Conclusion
There are numerous reasons to call a lawyer if you've been in an accident involving a distracted driver. From proving distracted driving and determining liability to ensuring you receive proper compensation and handling legal deadlines, an experienced and skilled attorney can significantly improve your chances of a successful outcome.
Don't wait; call distracted driving accident lawyers today if you've been in an accident involving a distracted driver; it could make all the difference in the outcome of your case.